LUKE'S MINNIE
Lukes Minnie built Hamble by Luke Brothers 1893
Official No: 98860 Rig: Gaff Cutter
Rig: Gaff Cutter Designer: W H Luke
L.O.A.: 40' Builder: Luke of Hamble (UK)
L.O.D.: 31' 2" Year: 1893
L.W.L.: 30' Engine: Yanmar 3HM (1990)
Beam: 10' 2" Water tanks: 2 S/S (180 gallons total)
Draft: 5' 7" Fuel tanks: 2 GRP (80 gallons total)
Displacement: 10 tons Berth: Penzance
Construction: Larch planks on oak frames with mahogany double diagonal cold moulded overlay. Lead Keel.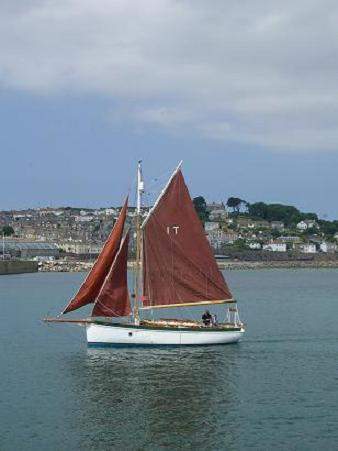 "Minnie" was built on Channel Pilot Cutter lines by Luke of the Hamble in 1893 as a gentleman's yacht. She was commissioned by Charles Harry Card of Vodoss House, Banister Road, Southampton who registered her at Lloyds on 28th March 1893 and claimed his occupation to be 'gentleman'. It is known that she has remained in commission as a private yacht ever since, more or less, and each owner has continued her registration .
On the 14th of April 1966 she was sold to an American subject, who allowed the registration to lapse until 1973 when the vessel was purchased by Reginald McKern the actor (Rumpole of the Bailey) who immediately re-registered her, but this time as Luke's Minnie. He has recently revealed photos from his time as owner.
Her cut away forefoot must have been an advanced feature in her era and her heavy scantlings were typical of the period. She spent most of her life in the English Channel but with one period of over 20 years based in Belfast around WW2. Recent research by Tom Cunliffe's daughter has produced interesting reminiscences from the Belfast owner's family. The earliest available photo shows her under sail during this period with a larger rig.
In 1977 she spent 4 years cruising Europe and the Caribbean before arriving in the USA in 1982. She crossed the Atlantic in 17 days. During this period she was owned by a shipwright who extensively repaired and refitted the hull, including adding the double diagonal mahogany skin; this was epoxied to repaired planking after haul-out and drying out on a Florida beach .
In 1989 she was then brought back to UK for further restoration by Richard Jordan who took care to retain much of the original panelling, the whole interior being restored to match to provide a practical cruising vessel, with modern electrics, plumbing, navigation and a new 35HP YANMAR diesel with a 3 bladed propeller which produces adequate power in all conditions. Under sail she is very comfortable and safe as one would expect with 10 tons displacement, but she also has a good turn of speed. Minnie has been raced successfully, especially around Cowes where she achieved first place in her class in the 1992 Round the Island Race and second place in 1993 and 1994.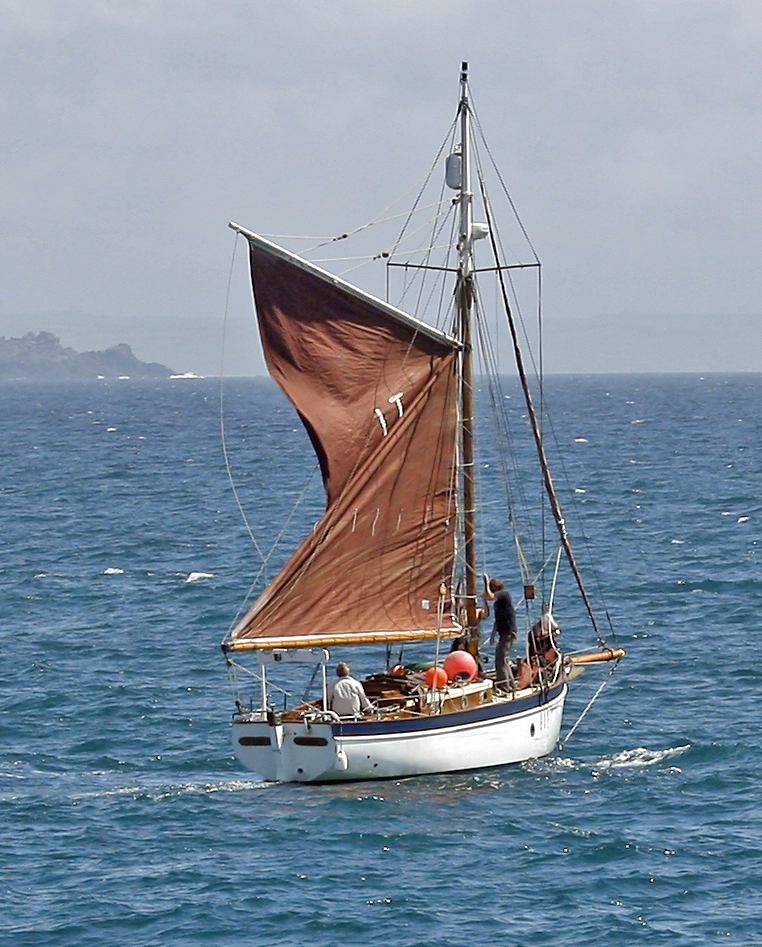 Copyright Mike Hindley 2022